$

35.00
SCAPULA Book Pack-World's Worst Villain & Memento Mori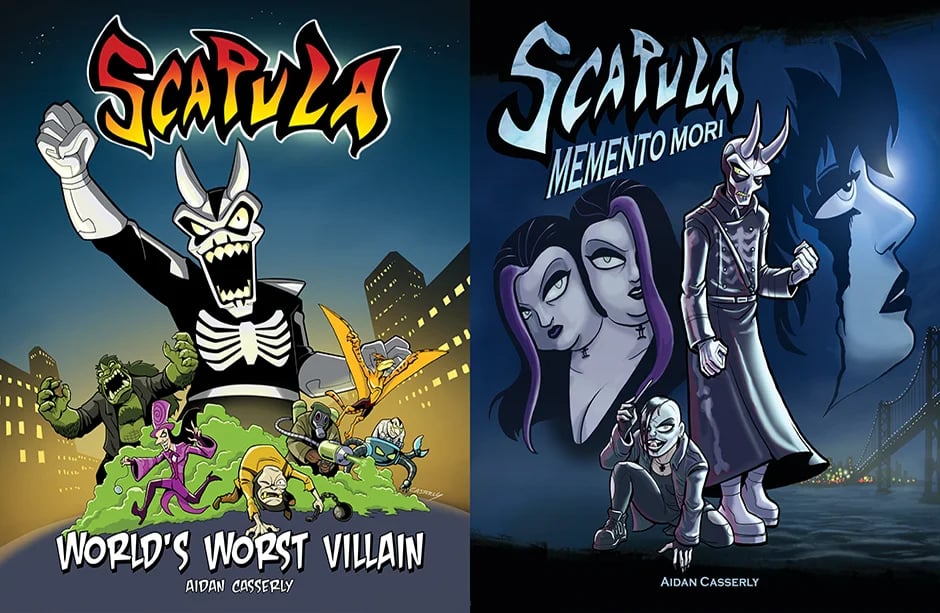 Two huge books, together at a new low price!


SCAPULA: WORLD'S WORST VILLAIN
150 pages, color, paperback.
The biggest and baddest collection of them all, this book is perfect for both new readers and longtime fans of the webcomic SCAPULA! Collecting six complete and uncensored storylines of Scapula comics, beginning from the series' 2013 relaunch. A major bonus is that all of the daily strips appear in color for the first time ever!
The stories included in this volume are Boys Against Girls, Blessed Be the Damned, Flight Into Horror!, Scapulajugend, Love & War, Gathering of Monsters.
Extra materials exclusive to the print-release include:
The Halloween Gang Class: A 'class picture' spread profiling the punk kids in Scapula's army.
DADAMAN: A special series of comics, previously available only to Patreon backers.
Extensive character profiles: Everything you've ever wanted to know about Scapula, Jemini, the Sinister Monster Doom Legion, and all of the cast!
'How to Ruin Comics the Scapula Way': A special behind-the-scenes chapter, revealing the complete process of creating the comics!




SCAPULA: MEMENTO MORI
168 pages, color, paperback.
After being unavailable for years the "lost" Scapula book is finally here; collecting the largest story arc in the entire series, Memento Mori appears now in print and in full-color for the first time ever. This final book completes the webcomic run in print form and is not to be missed by any die-hard fans of the series.
Special features include a prologue comic chapter, deleted scenes and artwork that was removed from the original on-line posts.


I will sign both books and draw a character inside each just for you. If you wish to choose the characters you want to see, simply let me know in the Ordering Details section (otherwise I'll just pick a character).