$

20.00
SCAPULA Book Pack- Vol.1 Losers Never Quit & Vol.2 Fear the Failure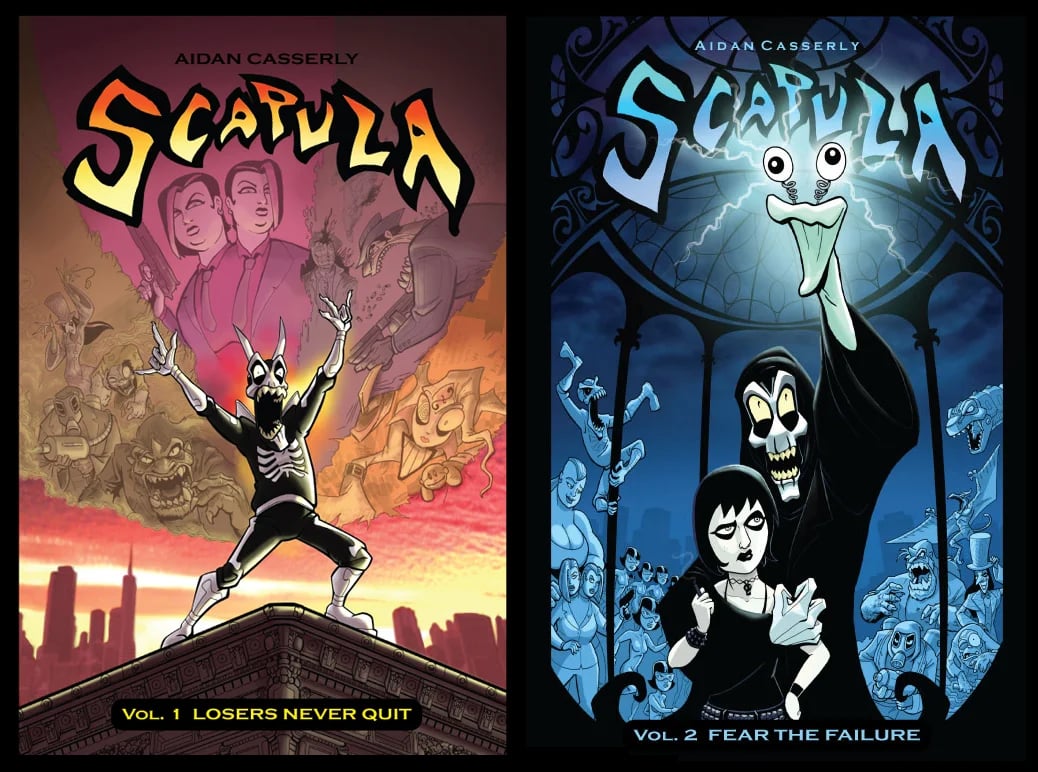 The first two volumes of the SCAPULA series are now available together at an extra low price!


SCAPULA Vol. 1: LOSERS NEVER QUIT collects the first several years of Scapula comics, going far beyond the start of the webcomic series. The stories included in this volume are from 2008 to 2010, uncensored and in their entirety: A Crappy Crime Caper, Identity Theft, Jemini's Beautiful Story, The Sicko Six, Devil May Care, Mating Season, The Neglected One, The Royal Supervillain Theatre presents: The Tempest, Dadaman, The Cupboard of Dr. Calibani, Gangway.
Extra materials include:
The History of Scapula: A special chapter on how the series came to be, and what had to be endured to get Scapula created.
He Who Fights and Runs Away: The very first SCAPULA story; this is the first time this 26-page story has been republished since 2007.
Gutless Wonder and Lick Your Wounds: Two early full-length stories.
How to Make Coffee: A special comic originally published in TGT Media's book, Webcomics: What's Cooking?.
The Kid Who Clobbers Scapula: An exclusive full-length story made for print.


SCAPULA Vol. 2: FEAR THE FAILURE picks up from the last book with all of the webcomic stories from 2010 to the end of 2012. The stories included in this volume are: Sinister Monster Doom Legion, Children are the Damned; or, Li'l Scapula, One Flew Over the Ku Klux Nest, Science Fiction Doubles Feature, Dada Dodo Doodah, Man of 1,000 Failures, Bone China, My Llorona, House of Scapula, The Jemini Killer.
Extra materials include:
Darkevilhelldeath-Man Rising: the horrifying origin of the most terrifying sock puppet ever!
The Villain: a fully-painted dramatic comic, made before the start of the webcomic series (also the first appearance of Bone China).
Unfinished and Untitled: the very first Scapula comic ever made, albeit unfinished and untitled...and possibly the most offensive thing in the series!
Guest Comics done for various webcomics from around the internet.
Sinister Monster Doom Legion vs Randy: a storyboard for a 'lost' Scapula animated special, where all of the villains must unite to battle...a bratty six-year old!


I will sign both books and draw a character inside each volume just for you. If you wish to choose the characters you want to see, simply let me know in the Ordering Details section (otherwise I'll just pick one).