$

12.00
SCAPULA Comic Pack- Scapula and the Sinister Monster Doom Legion & Scapula: Doubly Dark & Deadly!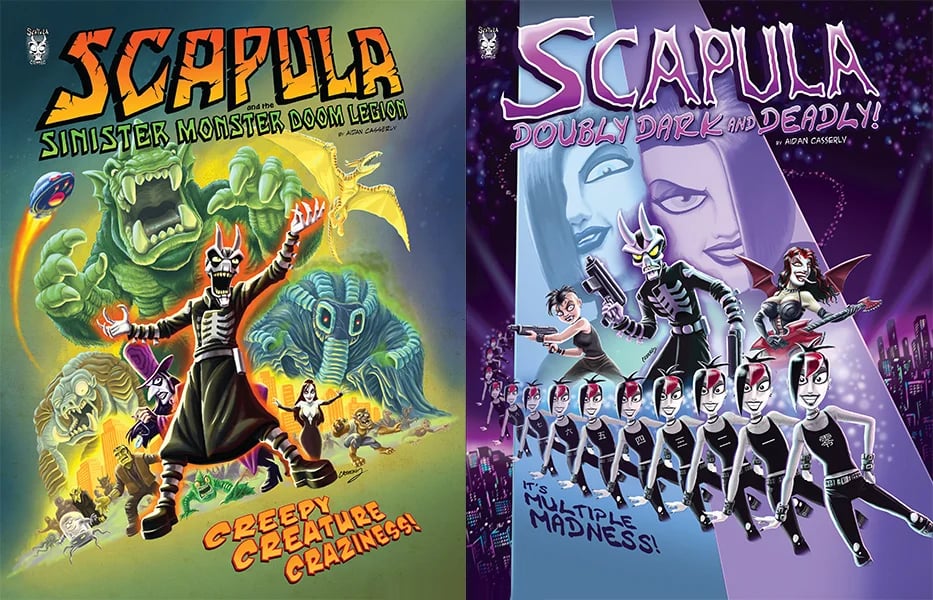 Two issues, Color, 52 pages each.
A monstrous double-header is coming your way: the two latest and greatest Scapula comics! Both issues are available together in this conveniently creepy two-pack.


SCAPULA AND THE SINISTER MONSTER DOOM LEGION
Villains and monsters unite in this colossal new comic book, celebrating the tenth year anniversary of SCAPULA!
Horror in the Wax Museum: A horrifying tale of a spooky museum, a gaggle of ghastly grotesques, and a living potty! Chock-full of vampires, werewolves, zombies, and other cuddly creeps, this story is for all the die-hard fans of classic horror.
Giant Attack Monsters Mega-Battle!: The villains return in a massive rockin', roarin' adventure, filled with kaiju, robots, UFOs, aliens (both the sexy and extremely non-sexy variety), city-smashing destruction, and more sci-fi shocks. This beastly epic runs for over thirty pages of hectic hilarity!
Comic Book Story: Scapula sets out to steal a precious comic book...but at what price?
This collection also includes:
Scapula's Wax Museum: An in-depth layout of a supervillain's lair!
The Monsters' Wrap Party: 2-page art spread of rockin' rogues and party animals!
Ten Years of Terrible Terror: A special retrospective of the best, worst, and most ridiculous tales from SCAPULA's lengthy career.


SCAPULA: DOUBLY DARK & DEADLY!
It's a triple header of double terror tales! This twisted tome contains three brand-new stories of the World's Worst Villain and the dark weirdos who cross his path...
Rawkum Nawkum Punks!: Naughty young Nazz and her crew The Halloween Gang have entered the roughest, toughest battle of the bands ever...but they didn't bother to see what happens to the losers. Will these kids survive the carnage, especially when they're up against the queen of shock?
Jemini's Copycat Counterattack: Jemini has returned with her most powerful weapon ever...perky Dio Sukuri! But whose team is the little brat really on? What dread power does this mysterious weirdo wield? Whatever it is, every villain wants it, resulting in the strangest gang war/love affair of all time!
Dominion: The mind of a madman is a bad place to be, especially if he desires you...so what happens to the people who are locked away in Scapula's subconscious? Can five unusual women break free from the dark depths, and are they willing to betray one another to escape?
This collection also includes:
This is Jemini: The origin story of Jemini and how she became such a vicious (but trendy) mob boss.
So You Want to Join the Halloween Gang A complete rundown of everything you need to know about surviving in this crew of idiots!
The Many Loves of Scapula The complete tragic history of how a jerk with a skull-face struggles to get a date.
Last Call: One last party night with the villains!